Our Sweet Three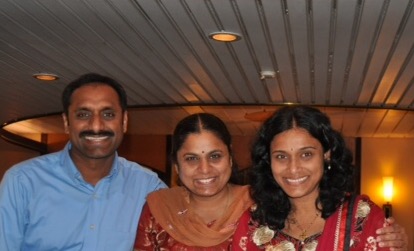 Children should listen to our words or we should listen to our children's words, both are the same, good if they happen with good will and love. Love and to be loved is everything. What goes around comes around. Let us bring words to life everyday that bring us a great joy. May each of you grow strong and healthy in your own way, may each of you bend and sing with the wind and reach for the sky...
Our Sweet Three have been our pride and joy, right from their childhood days; they have brought us lots of happiness in countless little ways. While we enjoy our memories we treasure everyone.
What we have once enjoyed we can never loose; all that we love deeply becomes part of us...
| | | |
| --- | --- | --- |
| Name | Qualification | Profession |
| Aparna | M.Sc (Chemistry); Ph.D | Senior Research Scientist, Naeja Pharmaceuticals Inc., Canada |
| Ajay | M.Tech (Artificial Intelligence & Robotics) | Program Manager, Microsoft, USA |
| Anupama | M.S (by Research); ECE | Software Engineer, Allied Telesis Inc, USA |
Smiling Future ...

It's a long distance that we have traveled
since we started the journey,
In the beginning we were delighted
To take this path

There were felicitations and praises,
Our confidence and esteem were raised,
and we started walking on the track
that many found difficult to break;
The road was getting to be a lengthy one
the loneliness was awesome,
No one to help, no one to talk to,
Neither the courage to continue nor to go back,
Suddenly we heard someone calling us from a distance,
smiling at us and saying: Go on achieve your ambition
Now here we are walking with courage and confidence
On the path of our career
No matter what it takes from us
we want to meet that smiling future.
| | |
| --- | --- |
| | |
Copyright © Kasani. All Rights Reserved.